French Country Castle Complete Remodel – 8 Year Project
Originally being hired to do the finish work on a country French home, I was pleasantly surprised to learn what the owner wanted was a unique work of art. As time went by, the owner and I truly connected on ideas and scope of the work. It became a work of passion for both of us.
We maintained the French country theme throughout, but each room was designed separately. As I progressed from room to room, the owner and I would talk of ideas. I would apply her thoughts to what became my canvas, along with an eclectic collection of items from around the world. To give a client the ability to realize their dream is an honor and I was able to accomplish this with this project.
Robert Havas
Robert was hired by the builder of my dream French Country home to be the finish carpenter. At the time, I only had eclectic, scrambled thoughts and ideas (and a barn full of architechtural oddities from around the world) on how to finish the interior of a French Country house. As time went by, I learned Robert was not just a finish carpenter, but a highly skilled craftsman, designer and builder. Robert's eye for quality and detail is impeccable, which aligned with his ability to interpret my thoughts perfectly.
As the builder went by the wayside, Robert stepped up to finish the project with a degree of skill, quality, design and management one rarely sees in the trades today. His intuitive ability and compassion for my dream led to directing a remarkable team of itinerant craftsmen. Robert's saying throughout the project was "We are building for 200 years." As he directed his team and led with craftsmanship, this was readily apparent.
I highly recommend Robert for any building project, for the end result will be a pleasure to behold. You will have a friend for life.
Kristina Harp, M.D.
West Linn, OR
Finish Carpentry for Remodel of First Christian Church of Christ, Scientist
Originally built in 1948, the church was virtually unchanged 60 years later. With the inspired design of architect Gary Moye, a new life was brought forward. I was fortunate to be the lone fine finish carpenter on this year long project in Eugene, Oregon. I was able to accomplish this by training the general contractors crew to be my assistants, setting up a shop on site, and working closely with all involved.
Move the sliders below to see before and after pictures of the church.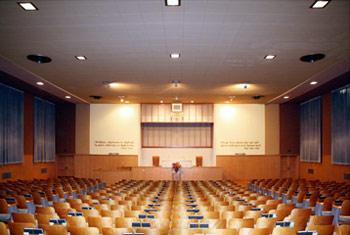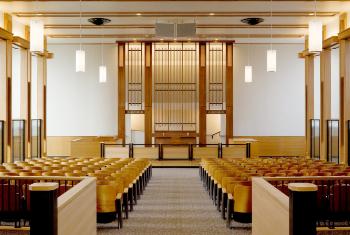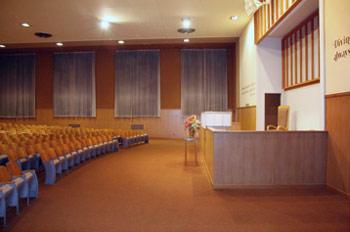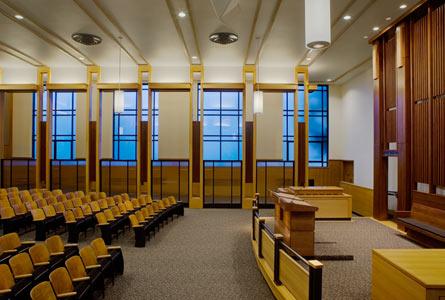 "I was the architect and Robert Havas was the finish carpenter for the extensive interior remodel of the First Christian Church of Christ, Scientist. Robert was, in my mind, the key to its successful implementation. This project required an extraordinary level of care and craftsmanship in making the new components that were set within the context of the existing building.
During the construction period I found that Robert's insights and cooperative spirit made him a valuable contributor to our project. From beginning to the end he was highly professional, extremely competent, and committed to producing the best work possible."
Gary Moye, Architect